Grilled Mediterranean Chicken Skewers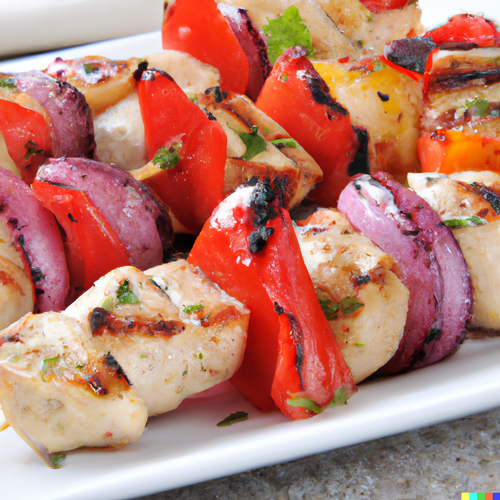 Ingredients
- 1 lb chicken breast, cut into bite-size pieces
- 1 tbsp smoked paprika
- 1 tsp dried oregano
- 1 tsp garlic powder
- 1 tsp onion powder
- 1/2 tsp salt
- 1/4 tsp black pepper
- 2 tbsp olive oil
- 1/4 cup red wine
- 1/4 cup lemon juice
- 1/4 cup plain Greek yogurt
- 4 garlic cloves, minced
- 1/2 medium red onion, cut into bite-sized pieces
- 1/2 red bell pepper, cut into bite-sized pieces
- 1/2 yellow bell pepper, cut into bite-sized pieces
- 8-10 wooden skewers, soaked in water for 30 minutes

Instructions:
1. In a large bowl, combine chicken, smoked paprika, oregano, garlic powder, onion powder, salt, pepper, olive oil, red wine, and lemon juice. Stir well, until chicken is well coated.
2. Cover the bowl and refrigerate for at least 30 minutes.
3. Preheat grill or grill pan to medium-high heat.
4. Thread chicken, garlic, red onion, and bell peppers onto the skewers, alternating between the ingredients.
5. Grill the skewers for 3-4 minutes on each side, until the chicken is cooked through and golden brown.
6. In a small bowl, combine Greek yogurt and minced garlic. Mix well.
7. Transfer the skewers to a serving dish and serve alongside the garlic yogurt dip.
8. Enjoy with a glass of our chilled Gold Hill Cab Franc Rosé!