About
---
WE'RE THE GILL FAMILY, AND GOLD HILL WINERY IS OUR PRIDE AND JOY.
We opened Gold Hill in 2009, but our story begins 8,000 years ago when agriculture first blossomed in the Indus Valley, a fertile strip in the Punjab of Northwest India. Growing conditions in the Indus Valley, particularly for fruit, were much like our Southern Okanagan region: a magical combination of temperature, elevation, soil and airflow.
Our founders, brothers Sant and Gurbachan Gill, are farmers from the Indus Valley region. Our ancestors have always been farmers, as far back as our knowledge reaches. Growing fruit is in our bones.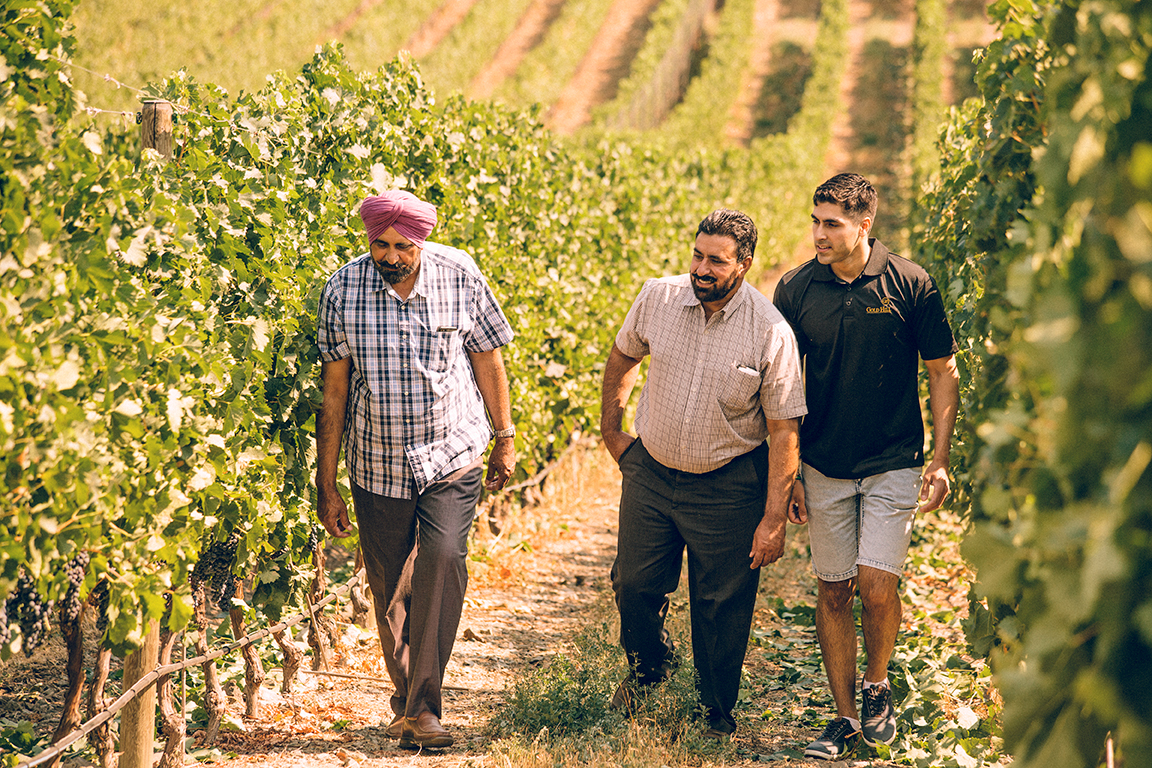 THE GOLD HILL STORY
Gold Hill is a result of a lifetime experience for brothers Sant & Gurbachan. Established in 2009, Gold Hill's focus has been to produce wines that reflect the charm of the South Okanagan. The wines are created with the spotlight on our estate vineyards. With over three decades of farming in the Okanagan, the Gill Brothers believe great wines start with understanding the unique terrior each of the vineyard sites and the Okanagan offers.
Gold Hill focus on Bordeaux varietals well suited to the warm climate of the South Okanagan, with attention on Cabernet Franc as the flagship varietal. Cabernet Franc has quickly become the preeminent varietal in the portfolio, with a loyal following. Gold Hill arrived on the scene with a bang, receiving the Lieutenant Governor's Award for Excellence in BC Wines with their first official release, a 2009 Cabernet Franc, and numerous prestigious awards have followed.
The Gill brothers farming history began generations ago in Punjab, India. Farming is in the family roots and each generation before the brothers had cultivated land in Punjab for various crops. The brothers immigrated to Canada in the 1980's directly to the Okanagan to join their family who had already established themselves as farmers in the South Okanagan.
In 1995 the brothers took the next step in their journey when they purchased the 24 acre site in the heart of the Golden Mile where the winery is now situated. The site was planted to various tree fruits and was owned by the late Harold King who lived in the Okanagan for over 80 years and contributed greatly to the conservation matters in the Okanagan-Similkameen region. The orchard had been slowly converted into vineyards over the years and in 2009, the brothers took the next, natural step with the production of wine, producing a modest 400 cases. Although the winery has grown, the family still supplies many prominent wineries in the Okanagan with their estate grown grapes in addition to Gold Hill.