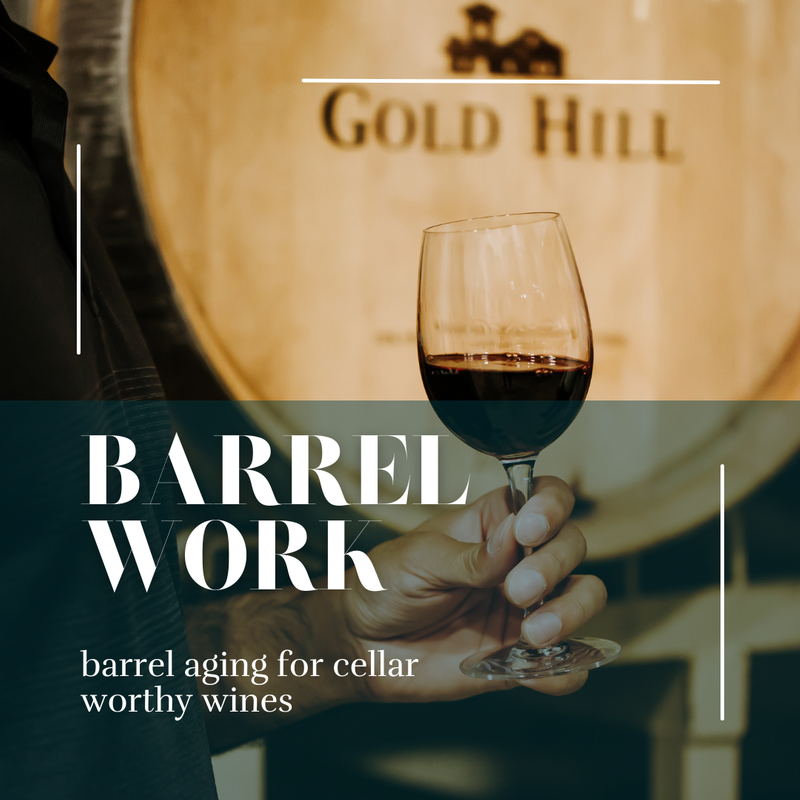 With the bottling of our newly released wines, our focus shifts to barrel work on our 2022 vintage wine and our 2023 vintage wines.
Barrel work in the wine cellar is an important part of the wine-making process. To understand the method of aging wine in barrels, it helps to look at the work and science that goes into the selection and preparation of wine barrels before they are filled with wine. This includes crucial behind-the-scenes work that goes on in our cellar to make this all possible. At Gold Hill Winery, we use French oak wood barrels exclusively, and the barrels are heat treated or toasted at different rates to impact the final flavours and aromas of the wine aging in the barrel.
At Gold Hill Winery, barrel work includes blending the 2022 vintage wines into tank and then cleaning out settled lees and preparing the barrels for refill. The 2022 Cabernet Franc, Merlot, Syrah and Grand Vin are blended by taste trials, and then returned to the clean and prepared barrels. The blended 2022 wine is given an additional 5 months in barrel before bottling in August. The new 2023 vintage wines need to be racked off coarse lees, the barrels cleaned and then the wines are returned to barrel to age for another 12 months before being blended.
Aging wine in barrels is an important part of the wine-making process at Gold Hill Winery. Barrel aging is the step between fermentation and bottling, when we mature the wine and allow the barrels to give it distinct flavors. Barrel aging also allows for the wines to be cellar-worthy and capable of improving over time. We allow this process to take place over 18 months (for our barrel-aged Semillon Sauvignon Blanc blend, aging in barrel is shorter, only 7-8 months).
Although it seems like not much is happening while the wines are aging in barrel, I have lots of responsibilities as a winemaker to monitor the barrels and the wine to make sure the aging process is going smoothly. Temperature and humidity need to be monitored, and the barrels must be 'topped' up or wine added to replace evaporation through the barrel. Over the time of aging, as much as 12 L of wine may be added to each barrel to keep the level 'topped' up.
Barrel work is my favourite activity – the beautiful aromas of maturing rich, luscious wines and the texture of the barrels, and the detailed hand work which brings focus to the winemaking process. Please feel free to stop in the next time you are at the winery, and you can pop in and catch some of the barrel work activities.